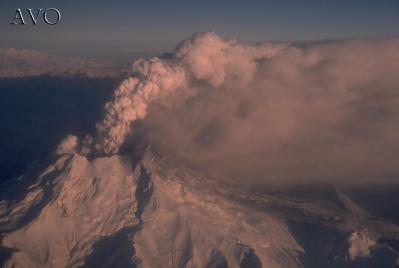 Last night, Mt.Redoubt volcano erupted, and again tonight. Don't worry about us -- it's far enough away(about 100 miles) that the main thing that might happen is that the ash starts blowing this way, and then we can't go to work or school, or use our computers!
The biggest concern is for airplanes -- volcano ash is terrible for engines! I have a jar of volcano ash collected in Anchorage from when Mt.Spurr erupted in 1992: it is a fine gritty sand, quite dark.
Read more at the
Alaska Volcano Observatory
website, including webcam pictures. The picture I'm posting now is from the last major eruption, which was around 20 years ago -- this time around there's not been as much ash as in this picture.
The
National Weather Service
website makes daily ashfall
predictions. For now, the Anchorage area is not predicted to receive any ash, but the Susitna valley North from here has an ashfall advisory in effect at the moment.