Subtitle: It's true, we went to Tahoe and did NOT hit the slopes
...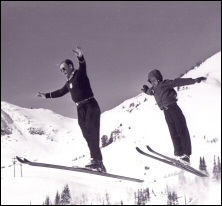 There's a lot to do around Lake Tahoe, but downhill skiing was not on our agenda, due primarily to various family members' injuries, but also to the prohibitive high costs! (AND the lack of fresh powder snow!!!)
We tried to go cross-country skiing one day along the
Tallac Historic Site Trail
. The skiing conditions were, shall we say, less than ideal, but it was a fun destination: this is where the RICH and FAMOUS built their houses and vacationed into the 1920's. The site is now preserved by the Forest Service. I loved the TALL pines, and tried to capture them in these photos. The boathouse is now a venue for concerts during the summer.
Here is the
Valhalla Estate
, built by business tycoon Walter Heller (the skier is my husband, the Prof, who is not a tycoon!)
This next set of buildings, if I remember right, belonged to the
Pope estate
, nicknamed the "Vatican Lodge". I love the twisted wood detail on the cabin below.
On our drive around Lake Tahoe, we stopped at the overlook for
Emerald Bay
, with it's Teahouse on that little island below, only a short boat ride from
Vikingsholm.
This is a scandinavian-style estate built for Lora J. Knight, a wealthy Illinois woman in1928-9. We were not able to hike down because the steep trail was trecherous with ice and snow, so I'm including a summer picture of the estate.
I thought I'd seen some expensive real estate in South Lake Tahoe, but North Lake Tahoe seems to be where the real money is! All we could afford there was a cup of coffee and a glimpse...
Another daytrip was to historic
Genoa
, Nevada's first settlement. The first picture is of the
Mormon Station
, which was a stop along the Pony Express route. The next picture is the Genoa Courthouse -- we had a picnic at the city park right across it. The rest of the pictures are of the surrounding countryside: Patty and I would have loved to stop at every old barn!
The highlight of the day was swimming at
Walley's Hot Springs
(last picture above). We also visited the Genoa cemetery. I admit, I love to visit old cemeteries -- I hope that does not make me morbid -- I like to think of them as a celebration of people's lives! We saw several graves that featured "man's best friend" in stone.
This cemetery is where
Snowshoe Thompson
is buried: he was a Norwegian immigrant who brought skiing to the Sierra Nevada. Here's what I found on Wikipedia about Snowshoe Thompson (Interestingly, the spelling is inconsistent with his gravemarker): Between 1856 and 1876, he delivered mail between Placerville CA and Genoa, and later Virginia City, NV. Despite his nickname, he didn't use snowhoes (they're native to North America), but rather would travel with ten-foot skiis (which he called "snowshoes"), and a single sturdy pole held in both hands at once. His skill was legendary, and he saved many lives. Despite his twenty years of service, he was never paid for delivering the mail.
If you're interested in reading more about Snowshoe Thompson, go to
this website
to find out more.